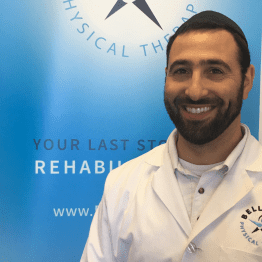 Dr. Abraham Lieberman, PT, DPT, CSST
Abraham Lieberman is a licensed doctor of physical therapy in the State of Texas specializing in neuromuscular and orthopedic interventions for patients through the lifespan. Having worked exclusively in neurology, orthopedics, geriatrics, and pediatrics, Dr. Lieberman has developed unique and effective physical therapy interventions especially tailored for each patient. Dr. Lieberman has lectured at a variety of institutions on the topics of rehabilitation, including at MD Anderson, and remains a national expert and consultant for complex multidisciplinary spinal and pelvic reconstruction rehabilitation as well as cervical torticollis.
Dr. Lieberman earned his undergraduate degrees at College of Staten Island, and his doctorate degree at Touro College in NYC after which he moved to Houston to continue his work as a physical therapist. A constant critic of the scientific literature, Dr. Lieberman earned the faculty research award and continues to review the latest and greatest peer-reviewed articles in his field to ensure that he is providing the absolute best for his patients. Dr. Abe, as he is affectionately called by his patients, has worked at MemorialHermann Sports Medicine and Rehab, TIRR MemorialHermann, Texas Orthopedic Hospital, Therapy Connections, Rehab Care, and STAMBUSH where he worked as a contract PT for numerous hospitals and private PT facilities. As in any industry, Abraham found considerable concerns in the physical therapy setting. For example, physical therapy treatments were often provided with outdated interventions that have been shown to be ineffective or inefficient. Patients would complain that they would just get comfortable with one therapist and would be switched to another therapists' schedule, creating a disruption with the patients' progress. Abraham observed that there were two groups of patients whom were greatly under-served; amputees and patients with back pain. Abraham opened STAR Spine Therapy and Amputee Rehabilitation, PLLC where he worked hard to develop unique and efficient physical therapy intervention for his patients, most of whom had PT previously with less than desirable outcomes. Within his first year of practicing in the private setting Abraham received requests from physicians and patients alike to extend his treatment style to the typical orthopedic patient.
Bellaire Physical Therapy has provided an opportunity for Dr. Lieberman to practice physical therapy with exceptional and ethical quality care. Dr. Lieberman reaches out to physicians whom are regarded by their patients as exceptional clinicians and whom want the best outcomes for their patients. Abraham offers complimentary opportunities to perform clinical rounds with the physician and provide educational opportunity to improve ones orthopedic and neurological screening skills. Bellaire PT has been very successful and is now expanding to provide full time pediatric physical therapy in a new expanded facility. My Kids Therapist is the pediatric section of Bellaire PT and new pediatric, orthopedic, and neuro therapists have joined the staff where they will be available to treat patients with the same bedside manner and expertise that patients have come to love at Bellaire PT.